Duet Adjustable Bench
Music Storage
BN-1101

- In Stock Ready to Ship
'Woodmaster' Duet Adjustable Piano Bench is elegantly designed, and the tufted seat has a generous Music Storage Compartment.
Perfect for Teachers and growing children this comfortable bench looks beautiful with both Upright and Grand Pianos.
Made of solid hardwood, the adjusting mechanism is made for durability.
The two knobs allow for easy height adjustment from 18" to 22"
Bench seat size measures 29-1/2" wide x 13-1/2"deep and the padded seat has a lovely matching Vinyl diamond Tufted Top.
Select your Color & Leg Style from the drop down menu above.
Bench Colors
Ebony /Black Satin or High Gloss - Walnut Satin- Mahogany Satin
Leg Styles
Professional Tapered - Spade - Curved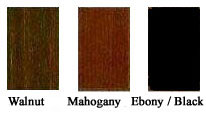 FAQ about Piano Benches / About Bench Colors
Duet Adjustable Bench
Music Storage
BN-1101
11
Average rating:

Read all reviews
Featured positive reviews:
Duet Adjustable Bench
Music Storage
BN-1101

Beautiful bench; great value
03/12/2013
I've had this bench about a month now, and I love it - fully adjustable, strong, well-made, with a nice compartment for storing music, and wide enough for my wife to sit next to me when I play! Looks great, and love that it's not leather (it's cruelty-free; no slaughtering of cows for their skins - very important!) and the mechanism seems very stable. Time will tell of course how well it holds up.
Duet Adjustable Bench
Music Storage
BN-1101

Very happy with my new bench!
10/27/2016

My students and I both love the duet bench and the cover fits perfectly!  Both look fabulous with my black satin finish Steinway. (Since my Steinway bench didn't fit in the piano's location, I had to use a smaller brown bench.)  This upgrade looks so much better! 
I will pass along my wonderful experience to the members of my music teachers' association.
Thank you so much!
Caroline
Duet Adjustable Bench
Music Storage
BN-1101

Excellent bench!
06/08/2015
This is just what I was looking for. I didn't want a massive duet bench hard to move around and hard to adjust.

This Adjustable Petite Duet is great for teaching, or playing, because you can sit two together comfortably and it doesn't take up too much room. I find the quality is also very good and the price very reasonable. This company is incredible and stands behind their products!!
Duet Adjustable Bench
Music Storage
BN-1101

Rate you a 10
07/26/2013
The bench was exactly what we wanted, appears to be a well built product. It was a perfect match for our Steinway M. We will recommend you highly. Shipping was timely and it came through in excellent condition. You can be sure we will shop your firm first, thank you. Edith and Gene Hardy
Duet Adjustable Bench
Music Storage
BN-1101

GREAT BENCH
05/13/2013
I bought this bench a few weeks back, and I will have to say that I love playing the piano again. A good bench makes a huge difference. This is a quality product, it's sturdy, and it looks great. I would recommend this product as well as doing business with Piano Showcase!
Related Items:
Retail Price: $215.00

Sale Price: $138.95

Price: $42.00