Horse Design Bench Cushion
SKU: CU-HD

Lovely Horse fabric bench cushion.
Three sets of ties to attach under the lid to hold the cushion in place.
Standard sizes or Custom Made
Standard size cushion is 1" thick
The 2" thick booster size costs only $12.00 more.
In Stock Sizes:
14" x 30"
14-1/2" x 33"
14-1/2" x 35"

Choices for color on the back: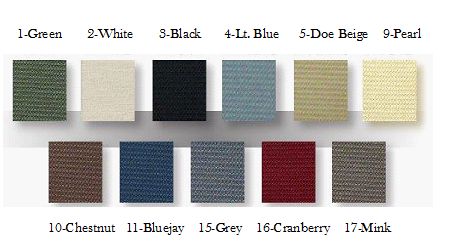 CUSTOM MADE CUSHIONS:
We can custom make your cushion to fit your bench.
Choose "Custom Made" as your Item number in the drop down list below, and type in your bench measurements in the appropriate box.
Custom Made Sizes .. 19¢ per square inch.
(Please note that our shop cannot calculate the price of custom sized cushions.
You can get your price by multiplying the width x length then multiply by 19¢.)
For example: 13" x 39" = 507 sq. in. x 19¢ = $96.33.
20" x 86" Maximum size - (Minimum Custom Size - $74.00)
Horse Design Bench Cushion
SKU: CU-HD
4
Average rating:

Read all reviews
Featured positive reviews:
Horse Design Bench Cushion
SKU: CU-HD

Bench Cushion
10/10/2014
I am thrilled with my bench cushion. It is so nice and fit my bench perfectly with the dimensions I gave for it. The quality is excellent!
Horse Design Bench Cushion
SKU: CU-HD

Very nice cushion
02/22/2013
I needed to raise my paino bench about 2". This is a nice looking cushion that does the job. The front is an embroidered horse scene. The back can be any color you choose. Good material. The only reason for not giving it 5* is the foam, though firm, is softer than I like. After a few hours of practice it sinks. I solve this by turning the bench around every now and then.
Horse Design Bench Cushion
SKU: CU-HD

Horse Design Bench Cushion
01/07/2013
I was very happy with the quality of this item and the way it looks. I ordered this one becuase I liked the colors. I was pleased by the quaility when the piano bench cover arrived. It is hard to tell by looking at photo's but it works perfertly for us. Also, great service. Thanks
Horse Design Bench Cushion
SKU: CU-HD

Mrs
03/02/2015
Everything is great - good service - speedy shipping - no complaints whatsoever - thank you