Paul Jansen
Duet Artist Piano Bench
BN-1058

- Click Here for a Lower price.
Considered the Rolls Royce of benches, Jansen products have been manufactured in the USA with great care for over 60 years.
They are 'Benchmakers' to Steinway, Baldwin & Kawai, because their exceptional quality begins with superior materials.
Each bench is made of carefully selected solid Maple Hardwood and they use only the finest Leathers & Vinyls for their bench tops.
Available with a choice of 9 hand carved leg styles, with either a Vinyl or Leather "Diamond Tufted" top.
Wood Colors: Ebony, Walnut, Mahogany, Ivory, White & Red Mahogany
Wood Finish - Satin or High Polish finish.
About Bench Colors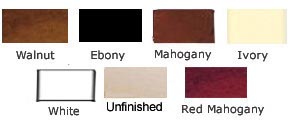 Seat size - 33" x 16-1/2"
Height adjustment from 18" to 21"
We can substitute special length legs either 1 or 2 inches higher or lower on the following 3 leg styles.
'Traditional Tapered' - 'Tapered with Brass Ferrules' & 'Spade'
Vinyl Top - Black, Brown, White, Burgundy or Ivory
Leather Top - Add $416.70 - Black, Brown, Burgundy, White or Ivory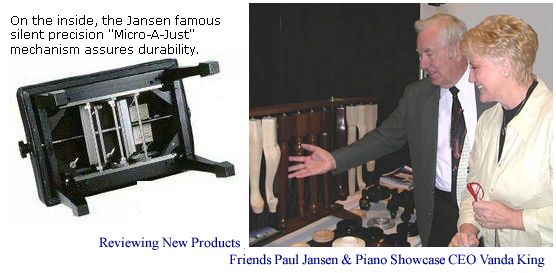 9 Solid Maple Hand Carved leg styles.
Price varies according to leg style selected.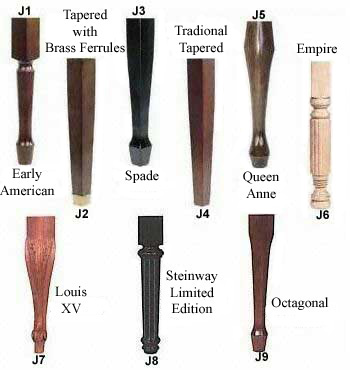 Please note: - The following benches are Custom-Made and may take longer for delivery.
Red Mahogany, White, & Ivory benches
Any High Polish finish other than Black
Leg Styles - J6, J7 & J8
FAQ about Piano Benches / About Bench Colors
Paul Jansen
Duet Artist Piano Bench
BN-1058
7
Average rating:

Read all reviews
Featured positive reviews:
Paul Jansen
Duet Artist Piano Bench
BN-1058

Best Bench Ever
03/11/2013
Playing the piano for the last few years has been difficult because our original piano bench aggravated my low back pain. I am beyond delighted with our beautiful Jansen bench. The adjustable height and tufted leather seat have brought comfort, ease, and pleasure back to practice. I wish we had purchased this bench long ago...very highly recommended! Customer service also receives high marks.
Paul Jansen
Duet Artist Piano Bench
BN-1058

Who'd have thought... for a bench???
10/13/2013
So it's a piano bench. And 'way more expensive than anyone would think reasonable. But I got tired of struggling with an old bench that had become wobbly after 20+ years and went for this one. Duet rather than standard just for comfort. It's solid, well machined and very nicely finished. Kelly on the phone made the process painless, with the best price I'd found and delivery a few days later.
Paul Jansen
Duet Artist Piano Bench
BN-1058

Should bought this from the beginning
10/28/2013
Love this bench, this is my 2nd bench in one year, I should have this from the beginning!! why be cheap! Customer service is awesome too!! Thank you1
Paul Jansen
Duet Artist Piano Bench
BN-1058

Jansen Duet Bench
12/15/2014
Great service and timely delivery. Bench arrived in pristine condition and is being enjoyed by our Methodist Church music dept.
Paul Jansen
Duet Artist Piano Bench
BN-1058

Piano bench
06/05/2014
excellent transaction---- no problems at all
Related Items:
Price: $213.00

Retail Price: $410.00

Sale Price: $368.00