Wood Sheet Music Cabinets
SKU: ACC-209
These quality Music Cabinets are from GRK Manufacturing. An American company
with an 80 year tradition for making fine musical furniture.
Beautifully constructed and made of hardwood they feature Brass Plated Handles on 9 drawers
that are specially designed to allow your Sheet Music & Books to slide in and out with ease.
Size 32" H x 16"W x 14" D - Weight 70 lbs

These cabinets are made to order - approximate manufacturing time 10-17 business days.
Select from 10 beautiful colors
Standard Colors: Dark Mahogany, Dark Walnut, Ebony Satin - $339.00
Ebony High Gloss-$399.00
All other Colors including Natural Clear Coat (very light wood) are Custom Colors - Add $399.00
Shipped Fully Assembled - Shipping Weight - 70 lbs.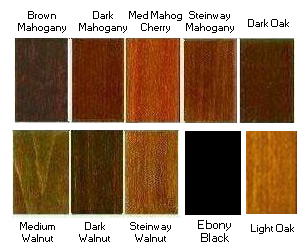 Wood Sheet Music Cabinets
SKU: ACC-209
38
Average rating:

Read all reviews
Featured positive reviews:
Wood Sheet Music Cabinets
SKU: ACC-209

What a wonderful purchase!
04/01/2014
I, like so many musicians posess massive amounts of treasured music and have struggled with finding organized, out of sight storage. I am thrilled with my new cabinet. It fits my space beautifully and looks stunning along side my piano. It arrived earlier than predicted and was wrapped meticulously so I received it in excellent condition. I'm so glad that I found you in my online search. Thank you
Wood Sheet Music Cabinets
SKU: ACC-209

Beautiful Cabinet Designed to Store Music
01/19/2016
After searching music store after music store and being told to "buy a book shelf" or "buy a filing cabinet" to store my wife's music next to a beautiful Petrof grand piano in our living room, I did the smart thing and went online. I didn't have the cabinet for Christmas morning but the cabinet I got from Piano Showcase cost less than half what the one a music store said they "might" get one for.
Wood Sheet Music Cabinets
SKU: ACC-209

TOTALLY AWESOME
01/26/2015
I ordered the sheet music cabinet and I had a wonderful gal helping me - Beth. The order was processed exactly as they statedand iI was able to track the shipment almost to the driver knocking on my door. The cabinet was packed so well and there was no damage at all, not even a scratch. I have had several comments on how beautiful it looks. I would definitely buy through this company again.
Wood Sheet Music Cabinets
SKU: ACC-209

BEAUTIFUL CABINET
01/13/2015
This cabinet is beautiful. My husband plays the trumpet, and there is music in baskets all over his music room. I gave him this cabinet in cherry for Christmas, and he loves it. It is gorgeous in his room and he is in the process of eliminating all those baskets.
The craftsmanship is superb. I would highly recommend this first rate cabinet to anyone interested in organize their music.
Wood Sheet Music Cabinets
SKU: ACC-209

Love this cabinet!
07/23/2014
This is a very heavy duty and beautiful sheet music cabinet. Obvious it is solid wood from the weight. Just a lovely cabinet and it looks so nice near my piano, too. The only change I wish the company would make would be to put label slots on each drawer in order to identify the contents. But, otherwise, a lovely and practical piece of furniture...
Featured negative reviews:
Wood Sheet Music Cabinets
SKU: ACC-209

loose back
10/17/2014
It is a nice cabinet with a decent finish and excellent brass handles. It holds the music nicely and the small drawers allow ease of access and good filing by composer, era, etc. The big problem with mine is that out of the box the back was loose, robbing the structure of diagonal stability. It wobbled side to side a lot. I repaired it immediately and it is now strong.
Related Items:
Retail Price: $590.00

Sale Price: $373.50

Retail Price: $600.00

Sale Price: $320.00

Retail Price: $685.00

Sale Price: $489.00

Retail Price: $725.00

Sale Price: $599.00