Wood Sheet Music Cabinets
SKU: ACC-209
These quality Music Cabinets are from GRK Manufacturing. An American company
with an 80 year tradition for making fine musical furniture.
Beautifully constructed and made of hardwood they feature Brass Plated Handles on 9 drawers
that are specially designed to allow your Sheet Music & Books to slide in and out with ease.
Size 32" H x 16"W x 14" D - Weight 70 lbs

These cabinets are made to order - approximate manufacturing time 10-14 business days.
Select from 10 beautiful colors
Standard Colors: Dark Mahogany, Dark Walnut, Ebony Satin - $299.00
Ebony High Gloss- Add $100.00
All other Colors including Natural Clear Coat (very light wood) are Custom Colors - Add $100.00
Shipped Fully Assembled - Shipping Weight - 70 lbs.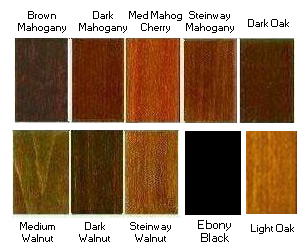 Wood Sheet Music Cabinets
SKU: ACC-209
17
Average rating:

Read all reviews
Featured positive reviews:
Wood Sheet Music Cabinets
SKU: ACC-209

What a wonderful purchase!
04/01/2014
I, like so many musicians posess massive amounts of treasured music and have struggled with finding organized, out of sight storage. I am thrilled with my new cabinet. It fits my space beautifully and looks stunning along side my piano. It arrived earlier than predicted and was wrapped meticulously so I received it in excellent condition. I'm so glad that I found you in my online search. Thank you
Wood Sheet Music Cabinets
SKU: ACC-209

Love this cabinet!
07/23/2014
This is a very heavy duty and beautiful sheet music cabinet. Obvious it is solid wood from the weight. Just a lovely cabinet and it looks so nice near my piano, too. The only change I wish the company would make would be to put label slots on each drawer in order to identify the contents. But, otherwise, a lovely and practical piece of furniture...
Wood Sheet Music Cabinets
SKU: ACC-209

Love My Sheet Music Cabinet
04/12/2014
I am very pleased with the cabinet I purchased. It is beautiful and perfectly matches the piano. I was pleasantly surprised when the item was delivered within two weeks of placing my order. Thank you for getting it to me in such a timely fashion. It was carefully packaged for shipping and received in perfect condition.
Wood Sheet Music Cabinets
SKU: ACC-209

Just what I needed
01/30/2014
The music cabinet that I purchased from you is beautiful. The color is perfect and the workmanship that went into making the cabinet is excellent. I now have one location for all of my music.
Wood Sheet Music Cabinets
SKU: ACC-209

awesome product
03/27/2014
The music cabinets are perfect and just as described. The dark walnut has just the perfect amount of shine and luster. Well packed too!
Featured negative reviews:
Wood Sheet Music Cabinets
SKU: ACC-209

Retired piano teacher
09/09/2013
Ordering was easy, and the cabinet arrived in excellent condition. The only disappointment was the unnecessarily large drawer pulls that looked as if they were borrowed from the kitchen department. As my old cabinet has very useful, single round knobs about the size of a quarter coin, I wish the new cabinet was similar. The manufacturing and price are good.
Related Items:
Retail Price: $590.00

Sale Price: $373.50

Retail Price: $600.00

Sale Price: $320.00

Retail Price: $685.00

Sale Price: $459.00

Retail Price: $699.00

Sale Price: $600.00