| | |
| --- | --- |
| | YAMAHA Piano Covers |

Purchase Orders
Select your Size, Fabric to Order,
or for assistance, call toll free 1-800-791-7144.
If you don't see your model number listed below, just measure the entire length of your piano, from in front of the keys to the furthest point at the back curve.
Note: - Measure underneath the piano - it's easier.
With over 30 years experience, our expert sewers make the finest piano covers in the industry.
You'll find our covers at Hollywood's Academy of Motion Picture Arts & Sciences (Academy Awards), the Smithsonian Institute & even on the pianos of the TV show Desperate Housewives.
Not all piano cover fabrics are created equal ...at Piano Showcase, only the finest & strongest fabrics are selected for durability, appearance and especially to protect your beautiful instrument.
We can also make the length of your cover to go to the floor. $90.00 extra.
Y-4'7" - Size 4'7" - $143.00
Y-4'11" - Models GA1, GA1E, GB1 - 4'11" - $144.00
Y-5'0" - Model GB1K - 5'0" - $144.00
Y-5'3" - Models 5' 3" - $144.00
G1, C1, GC1, G1F, GH1B, GH1FP, GH1G, GP1,DC1A, DC1II, DC1IIXG, DC1S
Y-5'8" - Models G2, G2F, C2, DC2, DC211XG - 5' 8" - $145.00
Y-6'1" - Models 6' 1" - $147.00
G3, G3F, C3, C3F, DC3
Y-6'3" - Models S4, S-400B - 6' 3" - $152.00
Y-6'6"- Model G5 - $153.00
Y-6'7" - Models C5, C5E, C5F, DC5 - 6' 7" - $154.00
Y-6'11" - Models C6F, S6, DC6 - 6' 11" - $159.00
Y-7'4" - Models C7D, C7E, CD7A - 7' 4" - $172.00
Y-7'6" - Models C7, C7F, DC7 - 7' 6" - $172.00
Y-8'2" - Model SC - 8' 2" - $182.00
Y-9' - Models C4, CF3 - 9' - $188.00
Y-9'-CF - Model CFIIIS - 9' - $188.00
For Upright Piano Covers Click Here
Custom Made Covers at No extra charge.
Select your piano size and fabric, then order from the drop down menus at the top of the page
For assistance call toll free 1-800-791-7144.
Click each link below for Fabric descriptions.
Mackintosh Fabric
Black Or Brown Mackintosh- Prices are as listed below
Vinyl Fabric
Not all Vinyl is the same. Some vinyl covers we've seen are paper thin or look like plastic.
Our Vinyl is the correct weight for piano covers. Not paper thin and certainly not heavy duty.
Thick vinyl should not be used for piano covers because it will retain heat and put the piano out of tune....
Not to mention the hassle of getting it on & off the piano.
Black & Brown Vinyl - (Priced as listed below)
White, Sand Beige or Burgundy Vinyl
Add $20.00 to the list price below. - (Custom Made)
Classic 3/8" Quilted Fabric
Black only - add $30.00
Top of the Line 1/2" Quilted Fabric
Black Premium Quilted - add $40.00
Brown Premium Quilted - add $50.00
Quilted Padded Mackintosh (for extra protection)
Black Padded Quilted Mackintosh for Heavy Traffic Areas - Add $65.00 - (Custom made)
Brown Padded Quilted Mackintosh for Heavy Traffic Areas - Add $85.00 - (Custom made)
Safety Locking Straps with 'D' Rings
Set of Locking Straps - add $35.00 to the list price-(Custom made)
Side Slits Add $65.00 - Custom Made



Embroidered Piano Name on Cover - $75.00
2 Positions - Front or Side
Metallic Gold, Metallic Silver, Pink, Blue, Yellow, White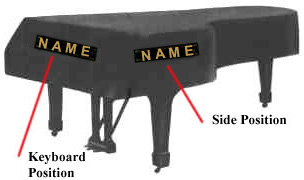 For Extra protection in a commercial setting;
e.g. Hotels, Theaters, Studios, Schools, Auditoriums etc., see our Commercial Heavy Duty Cover Commercial Heavy Duty Water Resistant Covers


YAMAHA Piano Covers
60
Average rating:

Read all reviews
Featured positive reviews:
YAMAHA Piano Covers

Silky smooth taffeta cover
11/17/2014
It's hard to capture the look and feel of the taffeta piano cover in pictures. It has a silky smooth feel, that won't trap dust like McKintosh fabric will. On the interior, it's lined with a gray flannel type of material that is super smooth. The taffeta fabric is water repellent and the slits are a must. A++
YAMAHA Piano Covers

LOVE the piano cover!
12/10/2014
I ordered the piano cover for my brand new Yamaha baby grand piano. The fabric was quilted padded mackintosh with side embroidery, side slits and locking straps. The cover came in a box a couple of days ago with no damages. I absolutely LOVE it! I put it on the piano and it was a perfect fit. The fabric is nice and thick so it should protect my piano well. Thank you!!!
YAMAHA Piano Covers

Messiah Moravian Church
09/13/2016
Although we have not yet installed the piano dolly, (awaiting arrival of piano technician), we can rate the piano cover and Jansen artist bench as being totally first class and exactly what was ordered. I might also comment on the presto shipping and the very kind and helpful personnel at Vanda King's that assisted with our purchases.
RDJ, Director of Music


YAMAHA Piano Covers

Yamaha piano cover
11/29/2016
I am a repeat customer. I first bought a top-of-the-line cover for my Kawai KG-3. Excellent quality. Then I ordered one for my Yamaha GC1. Unfortunately I received a wrong version (thinner cover). I emailed customer service. They immediately sent me a return tag as well as the right cover for my Yamaha. Good product and good service. Highly recommend them.
YAMAHA Piano Covers

Yamaha Grand Piano Cover
05/08/2015
Great online shopping experience with Piano Showcase. Easy order process with clickable options for cover very clear throughout so that you always knew exactly what you were ordering. For a custom cover, manufacture and shipment was fairly quick. The cover is gorgeous and should protect my beloved C7 Grand for years to come. Thanks Piano Showcase!
Related Items:
Retail Price: $60.00
Sale Price: $49.95