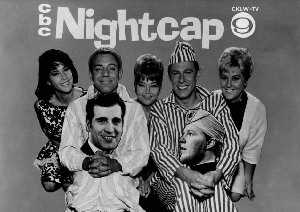 Nightcap was the 'first' one-hour, late night satire show on Canadian Televison in the 1960's and is now considered a Cult Television Classic. It was produced by the CBC Television Network and ran for 5 years, 39 weeks a year. It featured great music, comedy sketches, singing, dancing and the regular soap opera drama, 'Flemington Park' (A cesspool of desire in the heart of suburbia), along with some serious and not-so-serious famous guest interviews. Poking fun at our Federal & Provincial politicians was a weekly event - which in 'those days' was a "No No"! 'Nightcap' was very much 'ahead of its time' and was the forerunner for today's shows like "Saturday Night Live" and "Mad TV".

The Show Starred: (In order of the picture) June Sampson, Billy Van, Bonnie Brooks, Al Hamel, and Vanda King (who replaced Jean Christopher), along with the Guido Basso orchestra & sometimes Chris Beard. It was brilliantly Produced and Directed by Terry Kyne and cleverly written by Chris Beard (who sometimes appeared as a member of the cast). Nicki Balch was head of make-up; and Pat King, the Floor Director. The cast still keep in touch after all these years, so perhaps you'd like to know what everyone is doing now....

The music you're listening to was the Nightcap theme song, "Too Late Now"
The 'Photo Album' below has more pictures!

"The Cast"

Billy Van: A brilliant actor & singer.....after Nightcap, Billy went on to star as a regular on the Sonny & Cher Show, the Andy Williams Show, and too many more to mention.
Sadly Billy passed away on January 8th, 2003. We all miss him dearly.

Alan Hamel: ...lives in California. Al left his Announcing & Acting career behind in the'80's and has always been a skilled Businessman and you'll certainly know his wife Suzanne Somers. 'Chrissy on 'Three's Company', and 'Step by Step' with Patrick Duffy, the New Candid Camera and the author of 20 best selling Books. Alan is Suzanne's Personal Manager, a Producer & CEO of Alan Hamel Productions.
Al, Suzanne, Vanda & her husband Dennis are all still best friends today and visit together often.

Bonnie Brooks: ....(better known as Boom Boom on the show. Bonnie has spent a lifetime successfully acting in lots of movies, commercials and other TV series, like 'The Trouble with Tracy'. She & Vanda are still the best of friends!

June Sampson: ....moved to California after Nightcap - She retired with her husband to the beautiful countryside of France and in 2009 moved back to England. The Nightcap Girls still keep in touch today!

Vanda King: .... She starred in over 200 Television shows, appeared in Nighclubs and Concerts around the world.... including her own TV series 'Diamond Lil's' on the CTV network along with One Hour TV Specials. Today she's a successful businesswoman as President & CEO of Vanda King Entertainment Ltd., and still loves to sing for friends & family.





"The Orchestra"

Guido Basso; ...one of Canada's most beloved and famed trumpet players. 2010 and Guido is still blowing his trumpet at Jazz Festivals worldwide. He was leader of the Nightcap Orchestra, which comprised some of the most talented and famous musicians in the world. Guido on Trumpet; Moe Koffman (Swinging Shepherd Blues) on Saxophone; Rob McConnell (The Boss Brass); Teddy Rodderman on Trombone; Jimmy Dale on Piano; Jimmy Amaro on Bass; Ed Bickert on Guitar; Peter Appleyard on Vibes; & Howie Rae on Drums;

WOW! what a band!
All these musicians attained great fame at the top of their field in the music industry, and it was a joy for the entire cast to work with them for five years!

"The Production Gang"

Terry Kyne: ....the Brilliant 'Nightcap' Producer & Director ... now lives in Laguna Beach, California and is producing & directing TV shows in Los Angeles. Sadly passed away in California on June 7th, 2014. We miss you Terry.

Chris Beard: ... moved to LA, where he wrote hit shows like Rowan & Martin's Laugh In, The Gong Show, Sonny & Cher and the list goes on. He still lives there today and is writing for some of the biggest shows in Hollywood.

Nicky Balch: ....retired in the 80's and moved back to her lovely home in a small village in England. She keeps in touch with some of the cast members.

Sarah Currie: ...the wonderful 'Nightcap' costumer, without whose invaluable help, the stars would have ended up on camera with very little on each week.... (We're sure Sarah kept the velcro company in business...wow all those years ago too!) She's now retired from CBC.

Freddie Duer: ....Hairdresser to the 'stars'... Imagine doing a one hour show live and having to change hairdos for 3 girls every 15 minutes.. and wigs for every sketch. Freddie was a miracle! He had his own salon in Toronto for years and is now retired.

Nancy MacLarty: ....Script Assistant and general all around Good Friend and helper to the Production Gang, the Cast, and the rest of the studio personnel. Nancy continued at CBC for years, then went on to be 'Mayor' of a town in B.C.

Pat King: Was the illustrious Studio Floor Manager. He made sure everyone was in the right place at the right time, for every show. Unfortunately Pat is no longer with us, however, he's remembered fondly by everyone associated with the show.

Now, for those of you who fondly remember this most 'irreverant' Television series from Canada ,
here are a few photographs taken from the show.

There are 9 photos... please give them time to load!


Thanks for the memories!

---