Golf Design Cushion
CU-GO

Golf Design Bench Cushion
Three sets of ties to attach under the lid to hold the cushion in place.
Standard sizes or Custom Made
Standard size cushion is 1" thick
The 2" thick booster size costs only $12.00 more.
In Stock Sizes:
14" x 30"
14-1/2" x 33"
14-1/2" x 35"

Choices for color on the back: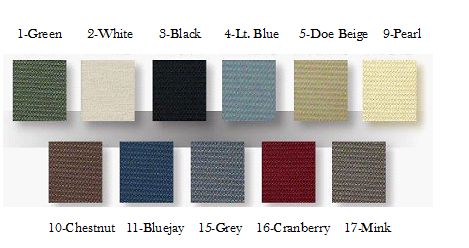 CUSTOM MADE CUSHIONS:
We can custom make your cushion to fit your bench.
Choose "Custom Made" as your Item number in the drop down list below, and type in your bench measurements in the appropriate box.
Custom Made Sizes .. 19¢ per square inch.
(Please note that our shop cannot calculate the price of custom sized cushions.
You can get your price by multiplying the width x length then multiply by 19¢.)
For example: 13" x 39" = 507 sq. in. x 19¢ = $96.33.
20" x 86" Maximum size - (Minimum Custom Size - $74.00)
Golf Design Cushion
CU-GO
1
Average rating:

Read all reviews
Featured positive reviews:
Golf Design Cushion
CU-GO

Piano cushion
08/30/2014
Very nice addition to my piano bench! I love the design and thanks for the fast delivery too. Just, in my opinion, a little pricey for what I wanted it for, however good quality.