Grand Piano Mobileer
with Locking Wheels
SKU-DO-44
Adjustable Grand Piano Mobileer in 2 sizes. - Weight 100 lbs to 132 lbs
GRK Grand Dolly / Mobileer comes equipped with Brakes on all (3) wheels to prevent the piano from shifting position when in use.
The telescoping arms adjust to the angle of the piano legs, at the center of the dolly.
All mobileers include three 3" Leg Cups and three 5" locking casters.
The piano is raised only 2-1/2" from the floor, no higher than regular casters, so there is no interference with playing.
Baked on Black finish. Remove wheels before placing piano on the dolly!
An essential accessory for moving your Grand Piano from room to room with ease and safety. Grand Pianos should never be moved around on their own legs. It will cause the bolts to strip and eventually break the legs.
***********************************************************
2 Models, Small or Medium

Model M742 for Grand Pianos 5'2" to 6'1" (Center plate shaped like a Grand Piano) See Photo Below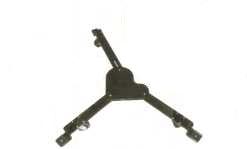 #M543-Regular Hexagon Center Plate- Medium - for Grand Pianos 6' 2" to 7' 6'

#M544- Large - DISCONTINUED -

Size Exceptions:
Because of the way the legs are situated on the following pianos, please see the Size Exceptions.
For 6' & 6'1" Yamaha, Young Chang, Kawai & Samick grands please order the #M542 Small Dolly.

If you're not sure which size to order, please call us Toll Free at 1-800-791-7144
If possible, please type in the Make & Size of your piano in the comment section of your order form ***********************************************************
Select from the drop down menus.
Grand Piano Mobileer
with Locking Wheels
SKU-DO-44
2
Average rating:

Read all reviews
Featured positive reviews:
Grand Piano Mobileer
with Locking Wheels
SKU-DO-44

Grand Piano Dolly
10/25/2016
On line shopping was clear and easy. Delivery was timely and items were exactly what I ordered. Set up of dolly was easier than I expected. Prices were the best, too! Thanks for the great service.
Grand Piano Mobileer
with Locking Wheels
SKU-DO-44

Piano Dolly
12/19/2016
The piano dolly is perfect - exactly what we needed and expected. The package it was shipped in was a bit of a mess - the dolly was way to heavy to be package the way it was - cardboard and lots of tape. Other than that, very satisfied.
Related Items:
Retail Price: $519.00

Sale Price: $299.99

Price: $0.00

Retail Price: $123.00

Sale Price: $89.99