| | |
| --- | --- |
| | Hydraulic One-Person Grand Piano Dolly |
Apart from its ease of use and convenience, the Grand Transporters© are perfect for use in Theatres, Concert Halls, on Stages etc., where aesthetics are important and you don't want to see a Truck Dolly under the piano.
If you're in a venue with several pianos, it takes the place of having to buy many different sized Grand Piano Truck dollies, and you also won't need 2 or 3 people to move the pianos.
These heavy duty dollies, have 3 hydraulic jacks that will lift and move size 4ft. to 9ft. grand pianos, weighing up to 3000 lbs.
In less than one minute, one person can position the Grand Transporter© under the grand piano, lift the piano off the floor and move it.
Excellent for replacing wheels, legs or brackets, the 'Transporter' will also sit over a grand Piano Truck Dolly, so it lifts the piano to install or remove the dolly.
3 MODELS
S-4001 - 6" Diameter Wheels - $1813.00
S-4001-SF - Softfoot Transporter - 8" Diameter Wheels -Works for Piano's 4'0" - 6'11" $1995.00
S-4001-AT - All Terrain - Heavier Frame and 10" Pneumatic Tires - $2325.00.
The Tow Handle is available for purchase with the Hydraulic Dolly - it is ideal for people moving high gloss pianos that do not want to push the piano and leave fingerprints on it. In most cases the piano is jacked up on the dolly and is pushed with body weight. - Price - $95.00
Folds easily for storage and for moving from place to place.
Designed & built in the USA.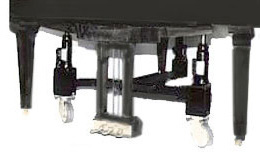 Hydraulic One-Person Grand Piano Dolly
1
Average rating:

Read all reviews
Featured positive reviews:
Hydraulic One-Person Grand Piano Dolly

Recording Studio Must-Have!
12/11/2013
I was looking for a good way of moving the piano around in our hardwood-floored recording studio. We have a 6.5' grand. Since we are particular about the piano being comfortable for the musician and in contact with the floor, it was important for us to have a removable system. This is the PERFECT solution. One person can easily move the piano and put the dolly away until we need to move it again