Quilted
Grand Piano Covers
SKU CO-165

Purchase Orders
With over 30 years experience, our covers can be seen on the pianos at Hollywood's Academy of Motion Picture Arts & Sciences, the Smithsonian Institute & even on the TV show Desperate Housewives.
If your brand of piano is not listed in our 'Brand Name' section, please use the size chart below.
Grand Piano Sizes
To determine the size of your piano - Measure in a straight line from the farthest end at the back curve, across the closed lid to in FRONT of the keys. Sometimes it's easier to measure the entire length of the piano from underneath.
Small Digital Grand Piano - $166.00
4' 10" - $166.00
5' 0" - $170.00
5' 1" - $171.00
5' 2" - $173.00
5' 4" - $174.00
5' 5" - $175.00
5' 6" - $175.00
5' 8" - $176.00
5' 9" - $176.00
5' 10" - $177.00
6' 0" - $178.00
6' 3" - $179.00
6' 7" - $180.00
7' 0" - $184.00
7' 5" - $190.00
8' 2" - $197.00
8' 6" - $201.00
9' 0" - $240.00
We can also make the length of your cover to go to the floor. $90.00 extra.
Click on each fabric for a description
Top of the Line 1/2" Quilted Fabric
Black Premium Quilted - add $40.00
Brown Premium Quilted - add $50.00
Embroidered Piano Name on Cover - $75.00
2 Positions - Front or Side
Metallic Gold, Metallic Silver, Pink, Blue, Yellow, White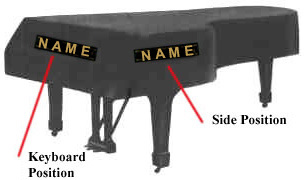 Safety Locking Straps with 'D' Rings
Set of Locking Straps - add $35.00 to the list price-(Custom made)
Side Slits Add $65.00 - Custom Made


Custom Made Covers at No extra charge.


For Extra protection in a Commercial setting e.g. Hotels, Theaters, Studios, Schools etc.
Commercial Heavy Duty Water Resistant Covers

Quilted
Grand Piano Covers
SKU CO-165
28
Average rating:

Read all reviews
Featured positive reviews:
Quilted
Grand Piano Covers
SKU CO-165

Quilt Baby Grand Piano Cover
06/19/2013
I am very happy with my purchased. I was a little nervous to order at first bec I have not seen the material but one of their customer service named Beth gave me reassurance that the cover I am ordering has very durable material. Sure enough when I rcvd my order the quality of the piano cover exceeded my expectations. Thank you..I love the cover :)
Quilted
Grand Piano Covers
SKU CO-165

Piano cover
08/01/2016
I love my new piano cover - it fits perfectly and came only a few days after I sent in the template and measurements. The quality is very good. I'm very happy to find a company that makes a quality product, was easy to order and delivered very quickly!
T
Quilted
Grand Piano Covers
SKU CO-165

Piano Protector
07/11/2015
I love our piano cover! The cover is a quality cover and should last for years! The company was amazing to work with and even contacted me to confirm the piano make and model before shipping! Just sorry I did not order years ago!
Quilted
Grand Piano Covers
SKU CO-165

Perfect Fit
11/20/2017
My wife and i donated a quilted grand piano cover to our church. The instructions for measuring the piano could not have been clearer. We received the cover quicker than expected, and the fit is absolutely perfect. Thank you!
Quilted
Grand Piano Covers
SKU CO-165

owner
10/22/2013
i love that way your site is organized. it is very user friendly. i am not a piano person (my wife is) but with your site it was easy for me to find the right size and it fits perfectly thank you.
Related Items:
Retail Price: $60.00
Sale Price: $49.95