Automatic Stair Climbing Piano & Moving Dollies
SKU:DO-60
All Purpose Automatic Stair Climbing Dolly.

Our Low Price Guarantee
MS series - 700 lb Capacity
General Purpose Dollies - $2100.00
Retractable legs sold separately - $199.00
MS-60 is 60" high
MS-66 is 66" high
MS-72 is 72" high

MS-1 series - 1200 lb Capacity
General Purpose Dollies - $2222.00
Retractable Legs sold separately - $199.00
MS-1-66 is 66" high
MS-1-71 is 72" high
MSP-1-66 - 1200 lb Capacity Piano Stair Climbing Dolly - $2495.00
(Please note: - The big wheel attachment is not available with the MSP-1-66, it is not compatible with this model).
Capacity 1200 lbs.
Comes equipped with Retractable load support Legs
Piano Skid Board
Side Frame Padding
Extra Straps
Toe Plate especially angled for pianos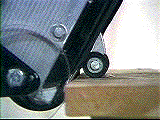 Made in the USA - Powered Hand Truck Dollies to move Pianos & Organs, heavy appliances, furnaces, bathtubs, water heaters, vending machines, furniture, business machines, air-conditioners, construction supplies, bottled gasses.
Excellent for buildings with no freight elevator. Loads that would normally require two or more people, now can be accomplished by one person.
** Size - 52" to 70" high, 24" wide, 5" deep Toeplate 4" x 24" (Larger size toeplates available below)
** Weight - 65 lbs
** Single control, easy to operate "UP-DOWN" switch. 30 Amp military rating.
** Sealed gel-cell battery, Automatic battery charger and one Automatic rewind safety strap included- Placed in center position unless requested otherwise. (Extra Straps Available and recommended when using for larger loads) RW-1 $95.00
** Frame made of tough aluminum alloy makes the dolly stronger than magnesium and lighter than steel.
** Scientific placement of multiple hand-holds give you a place to lift where you need it.
** Nickel-chromed steel comfort contoured handles, angled for easier load breaking and handling.
** Extraordinary gear box is built for years of service.
** "No Mar" lifting feet grip stair edge to Raise or Lower loads. Vertical application of thrust allows unit to be used on wet, carpeted or highly waxed surfaces.
ACCESSORIES
BWA-1- Big Wheel Attachment - $149.00
Big 10" x 4" inch pneumatic, ball bearing wheels allow you to roll heavy loads across lawns and rough terrain easily and smoothly. Snaps On-Off in 1 second.
BWA-1R - Big Wheel Attachment for Stair Climbers with Retractable Leg Supports - $149.00
PLEASE NOTE:The following Toeplate attachments are for use with the MS series dollies only.
BTA-12-28 - Big Toeplate Attachment - $125.00
Removable toeplate 12" x 28" fits over standard toeplate
BTA-12-32 - Big Toeplate Attachment - $125.00
Removable toeplate 12" x 32" fits over standard toeplate
HAT-1 - Height adjustable Toeplate - $125.00
Adjustable toeplate for moving loads with legs
RW-1 - Automatic Rewind Straps - $95.00
(One included with unit)
BAR-1 - Barrel and Drum Attachment -$65.00
Concave brace stabilizes water-heater, barrels and drums.
For further accessories, shipping cost and any more information required, please email
customerservice@vandaking.com
or call toll free to 1-800-791-7144
Warranty
If for any reason within the first 30 days of your purchase you are dissatisfied with your product, you can return it for a prompt exchange or refund of the entire purchase price with no restocking fee - so long as the unit is returned in new condition.
The Stair Climbing dolly is warranted by the manufacturer when lubricated and operated as recommended-to be free from defect in material and workmanship, for a period of one year after delivery.
All warranty items are to be returned with a Piano Showcase 'Return Authorization Number', freight prepaid, for inspection. If the item is determined to be defective, the unit will be repaired or replaced by the manufacturer. Alterations and/or careless or improper usage void this warranty. A nominal charge will be made for repair of units which are not operable for reasons other than defects in workmanship or material.
Automatic Stair Climbing Piano & Moving Dollies
SKU:DO-60
1
Average rating:

Read all reviews
Featured positive reviews:
Automatic Stair Climbing Piano & Moving Dollies
SKU:DO-60

Elec. dolly
04/01/2014
Great value and quick shipping!! Can't beat that!!