Bass Strings
Individual Replacements
SKU:S-10011

Ninety five per cent (95%) of all individual bass strings can be replaced with our Universal Strings listed below.
All of the universal strings have only one layer of copper. These strings can be used for temporary replacements while custom made strings are being made.
If your piano is very old, and has black or grey colored iron windings, it's advisable when ordering a "Unison String" or "Bi-Chord String" (more than one string to the note), to order both of them, so you will have an even sound.
Measurements shown in the diagram above:
1) - Length from the Hitch Pin to the Winding
2) - Length of the winding.
3) - Micrometer measurement of the outer copper wound diameter (in 1000th of an inch)
The following bass strings are for individual replacements. You need only to unwrap any excess copper and cut to the desired size.
Use the adjacent string as a measuring guide. We will email you instructions on how to install the strings.
NOTE: ...Please measure carefully before ordering - Due to the sensitivity of handling copper winding, Bass strings are NON returnable.
B48 Series - Bass Strings - 3-1/2" from hitch pin to copper winding.
Size 1 to 12 - $18.50 each.
Size 01 to 06 - $20.70 each.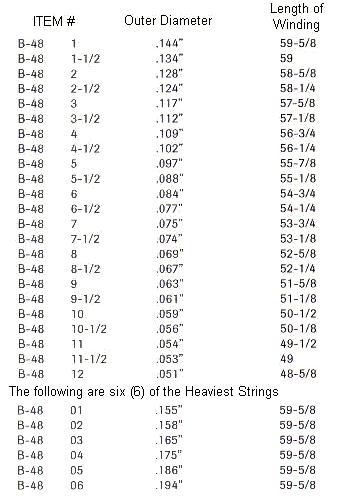 Item #S50- Series - Bass Strings - 3-5/8" from the hitch pin to the copper winding.
Sizes 1 thru 37 - $18.50
Sizes 01 thru 010 - $20.70
These strings are good for some of the better Grand Pianos, which use a lighter steel core and a heavier copper covering wire

If you have a grand piano 7 ft. or longer, we advise having your bass strings custom made



Please remember we have a $30.00 minimum order on all parts & tools
Bass Strings
Individual Replacements
SKU:S-10011
1
Average rating:

Read all reviews
Featured positive reviews:
Bass Strings
Individual Replacements
SKU:S-10011

Replacement string
11/21/2016
Needed a universal bass string. Good price and fast delivery.