| | |
| --- | --- |
| | Steinway Piano Covers |

Purchase Orders
Select your Size, Fabric to Order,
or for assistance, call toll free 1-800-791-7144.
If you don't see your model number listed below, just measure the entire length of your piano, from in front of the keys to the furthest point at the back curve.
Note: - Measure underneath the piano - it's easier.
With over 30 years experience, our expert sewers make the finest piano covers in the industry.
You'll find our covers at Hollywood's Academy of Motion Picture Arts & Sciences (Academy Awards), the Smithsonian Institute & even on the pianos of the TV show Desperate Housewives.
Not all piano cover fabrics are created equal ...at Piano Showcase, only the finest & strongest fabrics are selected for durability, appearance and especially to protect your beautiful instrument.
We can also make the length of your cover to go to the floor. $90.00 extra.
Steinway Grand Piano Covers
ST-5'1" - Style S, 5' 1" - $138.00
ST-5'7" - Style M, 5' 7" - $143.00
ST-5'10-1/2"L - Style L, 5' 10-1/2" - $150.00
ST-5'-10-1/2"O - Style O, 5' 10-1/2" - $150.00
ST-6'-1-1/2-R" - Style A (Round End- See Graphic Below), 6' 1-1/2" - $151.00- We will require a photo of the piano.
ST-6'-1-1/2-S" - Style A (Square End - See Graphic Below), 6' 1-1/2" - $151.00 - We will require a photo of the piano.
For Steinway 6'1-1/2" pianos we will request via email a photo of the tail of the piano prior to order processing.
ST-6'-4-1/2" - Style A, 6' 4-1/2" - $151.00
ST-6'11" - Style B, 6' 11" - $155.00
ST-7'5" - Style C, 7' 5" - $174.00
ST-8'-11-3/4" - Style D, 8' 11-3/4" Concert - $184.00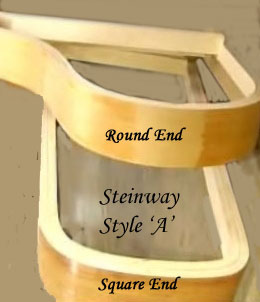 For Upright Piano Covers Click Here
Custom Made Covers at No extra charge.
Select your piano size and fabric, then order from the drop down menus at the top of the page
For assistance call toll free 1-800-791-7144.
Click each link below for Fabric descriptions.
Mackintosh Fabric
Black Or Brown Mackintosh- Prices are as listed below
Vinyl Fabric
Not all Vinyl is the same. Some vinyl covers we've seen are paper thin or look like plastic.
Our Vinyl is the correct weight for piano covers. Not paper thin and certainly not heavy duty.
Thick vinyl should not be used for piano covers because it will retain heat and put the piano out of tune....
Not to mention the hassle of getting it on & off the piano.
Black & Brown Vinyl - (Priced as listed below)
White, Sand Beige or Burgundy Vinyl
Add $20.00 to the list price below. - (Custom Made)
Classic 3/8" Quilted Fabric
Black only - add $30.00
Top of the Line 1/2" Quilted Fabric
Black Premium Quilted - add $40.00
Brown Premium Quilted - add $50.00
Quilted Padded Mackintosh (for extra protection)
Black Padded Quilted Mackintosh for Heavy Traffic Areas - Add $65.00 - (Custom made)
Brown Padded Quilted Mackintosh for Heavy Traffic Areas - Add $85.00 - (Custom made)
Safety Locking Straps with 'D' Rings
Set of Locking Straps - add $35.00 to the list price-(Custom made)
Side Slits Add $65.00 - Custom Made



Embroidered Piano Name on Cover - $75.00
2 Positions - Front or Side
Metallic Gold, Metallic Silver, Pink, Blue, Yellow, White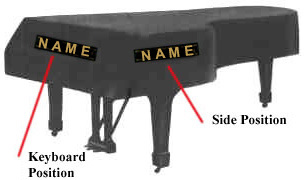 For Extra protection in a commercial setting;
e.g. Hotels, Theaters, Studios, Schools, Auditoriums etc., see our Commercial Heavy Duty Cover Commercial Heavy Duty Water Resistant Covers


Steinway Piano Covers
80
Average rating:

Read all reviews
Featured positive reviews:
Steinway Piano Covers

Thank you!
03/12/2013
We inherited our Steinway M about 10 days prior to a previously scheduled kitchen remodel was due to start. Because of the proximity of the piano to our kitchen, it was imperative that it be covered. We ordered a simple vinyl cover from Vandaking using their easy online form and without paying any exhorbitant shipping fees, viola, it arrived 2 days before the remodel. It looks great too! Thanks
Steinway Piano Covers

High Class Cover!
04/17/2015
Our church Steinway Model M needed a new cover and we ordered the brown quilted padded MacIntosh, top of the line with flannel backing. The cover is beautifully made, has the side slits which allow me to practice without removing the cover. It is lovelier and more functional and protective than we'd anticipated. We expect many, many years of use from this beautifully crafted piano cover. Thank you
Steinway Piano Covers

Beautiful Piano Cover
10/03/2016
We needed a cover to protect our piano from our cats. I chose the Vinyl Burgundy with side slits and embroidery. I am able to damp wipe it when necessary, the burgundy matches our decor, the felt is soft but thick and the embroidery is very elegant. The side slits allow access to play without removing the entire cover. It's a bit tight at the edges, but otherwise love it and it arrived quickly
Steinway Piano Covers

Great cover
03/30/2014
I bought the black Macintosh, to be honest, with low expectations. I was very pleasantly surprised. The cover is excellent quality. The fabric is sturdy and the backing is soft. I have a blanket under it because I have cats and need to protect the piano from scratches when they jump on it. It fit perfectly over the blanket. Delivery was vey quick. Would definitely buy from this company again.
Steinway Piano Covers

Premium Cover
07/28/2013
We purchased the Premium cover for our Steinway "L" Grand piano. We were 100% pleased with the cover when it arrived. It looks really nice, covers the piano well and is very functional with the side slits. I emailed back and forth to get details and the staff were incredibly helpful and made great suggestions. We live in Canada and it didn't take long at all for the cover to arrive.
Related Items:
Retail Price: $60.00
Sale Price: $49.95