Paul Jansen
Duet Artist Piano Bench
BN-1058

-
Considered the Rolls Royce of benches, Jansen products have been manufactured in the USA with great care for over 60 years.
They are 'Benchmakers' to Steinway, Baldwin & Kawai, because their exceptional quality begins with superior materials.
Each bench is made of carefully selected solid Maple Hardwood and they use only the finest Leathers & Vinyls for their bench tops.
Available with a choice of 9 hand carved leg styles, with either a Vinyl or Leather "Diamond Tufted" top.
Wood Colors: Ebony, Walnut, Mahogany, Ivory, White & Red Mahogany
Wood Finish - Satin or High Polish finish.
About Bench Colors


Seat size - 33" x 16-1/2"
Height adjustment from 18" to 21"
We can substitute special length legs either 1 or 2 inches higher or lower on the following 3 leg styles.
'Traditional Tapered' - 'Tapered with Brass Ferrules' & 'Spade'
Vinyl Top - Black, Brown, White, Burgundy or Ivory
Leather Top - Add $458.35 - Black, Brown, Burgundy, White or Ivory
* NEW * Supply your own material We will require a sample to confirm that the material is sufficient prior to proceeding with an order - you will receive an email once your order is placed with where to mail the sample. Add $208.35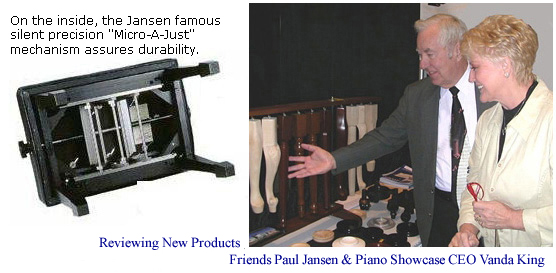 9 Solid Maple Hand Carved leg styles.
Price varies according to leg style selected.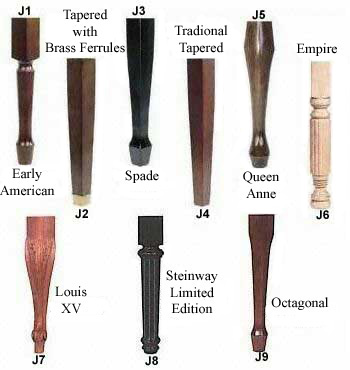 Please note: - The following benches are Custom-Made and may take longer for delivery.
Red Mahogany, White, & Ivory benches
Any High Polish finish other than Black
Leg Styles - J6, J7 & J8
FAQ about Piano Benches / About Bench Colors
Paul Jansen
Duet Artist Piano Bench
BN-1058
13
Average rating:

Read all reviews
Featured positive reviews:
Paul Jansen
Duet Artist Piano Bench
BN-1058

Piano Bench
07/04/2016
We love it. Color of wood , leather etc. and quality are excellent.
It is quite firm compared to our previous bench- the bench we could no longer sit on for long because the edge bothered our legs. I am sure it will not become more firm with time. I honestly have no suggestions for improvement. Customer service was impeccable, & worthy of special mention. We paid a lot, but got what we paid for.
Paul Jansen
Duet Artist Piano Bench
BN-1058

Best Bench Ever
03/11/2013
Playing the piano for the last few years has been difficult because our original piano bench aggravated my low back pain. I am beyond delighted with our beautiful Jansen bench. The adjustable height and tufted leather seat have brought comfort, ease, and pleasure back to practice. I wish we had purchased this bench long ago...very highly recommended! Customer service also receives high marks.
Paul Jansen
Duet Artist Piano Bench
BN-1058

Who'd have thought... for a bench???
10/13/2013
So it's a piano bench. And 'way more expensive than anyone would think reasonable. But I got tired of struggling with an old bench that had become wobbly after 20+ years and went for this one. Duet rather than standard just for comfort. It's solid, well machined and very nicely finished. Kelly on the phone made the process painless, with the best price I'd found and delivery a few days later.
Paul Jansen
Duet Artist Piano Bench
BN-1058

Jansen Duet Artist Bench
01/04/2016
I received my new bench in black leather. I was replacing a single Jansen bench sold to help defray the cost. I will agree with the statement of others, you get what you pay for. The bench arrived quickly, securely packaged. Spade J3 legs, black satin finish, and of course the diamond tufted leather top. Vanda King provided excellent service and a great price. This a great bench. Thanks Vanda!
Paul Jansen
Duet Artist Piano Bench
BN-1058

High quality; fast, accurate service
03/17/2015
Based on my experiences I would they recommend both Vandaking.com and the double tufted piano bench (in black vinyl). The service was professional and responsive in reaching out to me about a card number issue. The bench itself is extremely well-made, as advertised. I use this for piano playing as well as extra dining seating it's extremely comfortable for long periods.
Related Items:
Retail Price: $410.00
Sale Price: $368.00