Paul Jansen
Artist Piano Bench
SKU: BN-1018

-
If you're looking for the finest Artist Piano Bench made - This is It!
Made in the USA, Paul Jansen products have been manufactured with great care for over 60 years.
'Benchmakers' to Steinway, Baldwin & Kawai, their exceptional quality begins with a selection of superior materials.
Each Jansen bench is carefully hand-crafted from solid Maple Wood,
and they use only the finest Leathers & Vinyls for their bench tops.
An exceptionally comfortable seat.
Wood Colors: Ebony, Walnut, Mahogany, Ivory, White & Red Mahogany
Wood Finish - Satin or High Polish finish.

Seat size - 21-1/2" x 16-1/2"
Height adjustment from 18" to 21"

We can substitute special length legs either 1 or 2 inches higher or lower on the following 3 leg styles.
'Tapered' - 'Tapered with Brass Ferrules' & 'Spade'
Diamond Tufted Top or (Optional custom-made Smooth Untufted top (Vinyl Only) at no extra cost).
Vinyl Top - Black, Brown, White, Burgundy or Ivory
Leather Top - Black, Brown, Burgundy, White or Ivory
Leather Top - Add $358.35
Supply your own material We will require a sample to confirm that the material is sufficient prior to proceeding with an order - you will receive an email once your order is placed with where to mail the sample. Add $208.35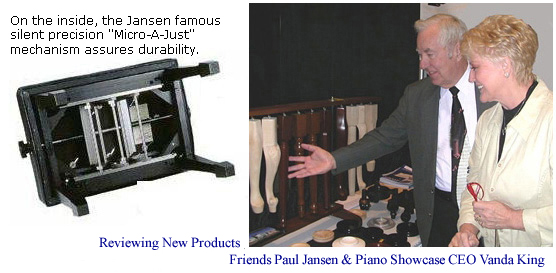 9 Solid Maple Hand Carved leg styles.
Price varies according to leg style selected.
CLICK HERE for a large view of Leg Styles.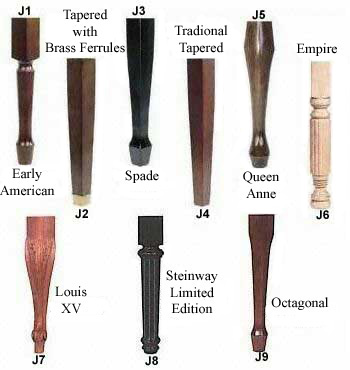 Please note: - The following benches are Custom-Made and may take longer for delivery.
Red Mahogany, White, & Ivory benches
Any High Polish finish other than Black
Leg Styles - J6, J7 & J8
Two year warranty on the bench and a Lifetime warranty on the "Micro-Adjust" mechanism
FAQ about Piano Benches / About Bench Colors
Paul Jansen
Artist Piano Bench
SKU: BN-1018
25
Average rating:

Read all reviews
Featured positive reviews:
Paul Jansen
Artist Piano Bench
SKU: BN-1018

Jansen Artist Bench
12/28/2016
The Jansen Artist Bench is a total delight. The walnut/brown leather combo matches my 1988 Baldwin Grand perfectly. It is extremely sturdy and comfortable. The ability to adjust the height is marvelous for this old-school player who has spent more than six decades on a classic piano bench. The difference in shoulder strain is very significant.

The sales person at the Piano Showcase was frie
Paul Jansen
Artist Piano Bench
SKU: BN-1018

Paul Jansen Artist Piano Bench
12/15/2013
The shopping experience was truly excellent. I phoned to get some information and was treated very nicely. After ordering the bench, it arrived in excellent condition 3 days later. The bench is of very high quality. The cushion is very thick and the mechanical construction very sturdy. My daughter can now practice without pain in her legs. The old bench was cutting into the back of her thigh
Paul Jansen
Artist Piano Bench
SKU: BN-1018

A Work of Art
12/20/2014
Expect the best bench made in this world. Only with this bench have I been able to FIND my personal center of gravity for better balance, leverage, pivoting. My tailbone sings rather than screams, even after daily 4 hour sessions. Its mechanism is a work of art that provides smooth and easy height adjustments. A chapter heading of my latest book reads, "Jansen's Artist Bench Saves My Back." Thanks
Paul Jansen
Artist Piano Bench
SKU: BN-1018

GREAT Bench and GREAT service
01/16/2017
The Paul Jansen Artist Piano Bench arrived within two days just as promised. My girlfriend absolutely LOVES it as she sits at her K Kwai concert grand to play! She invited several close friends over for a Christmas recital and the Bench was a HIT! My vandaking.com representative was SO HELPFUL in every way! This was from minute one, the BEST shopping experience ever! FIVE Stars in every way!
Paul Jansen
Artist Piano Bench
SKU: BN-1018

sitting pretty!
06/19/2014
Save for a minor glitch with our credit card information, the recipient of the piano bench (a 47th wedding anniversary present) was delighted, and much prefers it to the hard standard bench she used before. One might say that indeed she is "sitting pretty!" We would recommend your product and service to anyone !
Related Items:
Retail Price: $550.00

Sale Price: $459.00

Price: $0.00

Retail Price: $452.00

Sale Price: $402.00

Price: $21.65