| | |
| --- | --- |
| | KAWAI Piano Covers |

Purchase Orders
Select your Size, Fabric to Order,
or for assistance, call toll free 1-800-791-7144.
If you don't see your model number listed below, just measure the entire length of your piano, from in front of the keys to the furthest point at the back curve.
Note: - Measure underneath the piano - it's easier.
With over 30 years experience, you'll find our covers at Hollywood's Academy of Motion Picture Arts & Sciences (Academy Awards), the Smithsonian Institute & even on the pianos of the TV show Desperate Housewives.
Only the finest & strongest fabrics are selected for durability, appearance and especially to protect your beautiful instrument.
We can also make the length of your cover to go to the floor. Custom Made $90.00 extra.
Kawai & Shigeru Kawai Grand Piano Covers
KW-4'9" - GM-1--- 4' 9" - $134.00
KW-5'0" - GM-2, GM-10, GM-12---5' 0" - $137.00
KW-5"1" - KG-1C, KG-1D, GE-1, GE20--- 5' 1" - $138.00
KW-5'3" - CP200 - 5'3" - $139.00
KW-5'4" - KG-1E --- 5' 4" - $140.00
KW-5'5" - RX1, GX-1, GE30 ... 5'5" - $142.00
KW-5'7" - GE-2--- 5' 7" - $144.00
KW-5'9" - GE-3--- 5' 9" - $145.00
KW-5'10" - KG-2, KG-2E, KG-2C, RX2, SK2 --- 5' 10" - $146.00
KW-5'11" - GX-2 --- 5' 11" - $148.00
KW-6'1" - KG3, KG3E, GS30, GS40, RX3, SK3 - 6' 1" - $150.00
KW-6'6" - RX5, R1, SK5, RX-A--- 6' 6" - $153.00
KW-6'8" - KG-5 - 6'8" - $154.00
KW-6'9" - KG-6E, GS-50, GS-60 - 6' 9" - $155.00
KW-7'0" - RX6, SK6 - 7'0" - $161.00
KW-7'4" - KG6, KG6C, KG7 - $171.00
KW-7'5" - GS-70 - 7' 5" - $172.00
KW-7'6" - RX7, SK7 - 7'6' - $173.00
KW-8'2" - GS80 - 8'2" - 185.00
KW-9'1" - KG-8, GS-100, EX - 9' 1" - $194.00
For Upright Piano Covers Click Here
Custom Made Covers at No extra charge.
Select your piano size and fabric, then order from the drop down menus at the top of the page
For assistance call toll free 1-800-791-7144.
Click each link below for Fabric descriptions.
Mackintosh Fabric
Black Or Brown Mackintosh- Prices are as listed below
Vinyl Fabric
Not all Vinyl is the same. Some vinyl covers we've seen are paper thin or look like plastic.
Our Vinyl is the correct weight for piano covers. Not paper thin and certainly not heavy duty.
Thick vinyl should not be used for piano covers because it will retain heat and put the piano out of tune....
Not to mention the hassle of getting it on & off the piano.
Black & Brown Vinyl - (Priced as listed below)
White, Sand Beige or Burgundy Vinyl
Add $20.00 to the list price below. - (Custom Made)
Classic 3/8" Quilted Fabric
Black only - add $30.00
Top of the Line 1/2" Quilted Fabric
Black Premium Quilted - add $40.00
Brown Premium Quilted - add $50.00
Quilted Padded Mackintosh (for extra protection)
Black Padded Quilted Mackintosh for Heavy Traffic Areas - Add $65.00 - (Custom made)
Brown Padded Quilted Mackintosh for Heavy Traffic Areas - Add $85.00 - (Custom made)
Safety Locking Straps with 'D' Rings
Set of Locking Straps - add $35.00 to the list price-(Custom made)
Side Slits Add $65.00 - Custom Made



Embroidered Piano Name on Cover - $75.00
2 Positions - Front or Side
Metallic Gold, Metallic Silver, Pink, Blue, Yellow, White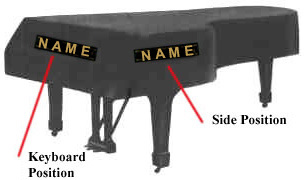 For Extra protection in a commercial setting;
e.g. Hotels, Theaters, Studios, Schools, Auditoriums etc., see our Commercial Heavy Duty Cover Commercial Heavy Duty Water Resistant Covers


KAWAI Piano Covers
57
Average rating:

Read all reviews
Featured positive reviews:
KAWAI Piano Covers

KAWAI Piano Covers
02/09/2016
All around great experience from ordering to receiving! This is a fantastic cover to protect our new piano from harm (like our cat that thinks it is a big chair!). We got the black quilted padded Mackintosh to match our polished ebony piano. The padding is substantial and should protect the surface from anything but dropping a brick on it from the balcony! It looks classy; everyone is impresse
KAWAI Piano Covers

Good Cover for the Price
11/25/2013
The cover is well made and the company went to every effort to ensure correct fit (emails). I am happy to recommend these covers to new purchasers. For those with the newer Kawai grands, please ensure to spec which one and size it is. We purchased a Shigeru Kawai SK3 that luckily was the older size -- and therefore the cover fit -- but since 2010 the size of this particular piano is larger.
KAWAI Piano Covers

Two Covers
10/28/2013
I recently made my first purchase from Piano Showcase. A vinyl cover for a Kawai grand used in a high-traffic area and a premium quilted cover for my personal Mason & Hamlin Model A. Both covers came exactly as described on the website, arrived 4 days earlier than originally quoted (with free shipping) and fit perfectly. I am a piano technician and will definitely use this service again.
KAWAI Piano Covers

Cover
05/02/2013
We purchased your piano cover, and are thrilled with it. It is well made, with quality material. Underside is soft, giving us the confidence of staying scratch free. The outer material is not only beautiful, but looks like it should last for years. Only wish we would have purchased it years ago. Oh, and did I mention, GREAT price! We are very pleased, and would highly recommend!
KAWAI Piano Covers

Wished I Invested In A Cover Years Ago
10/13/2016
I recently purchased a semi water proof cover for my Kawai grand piano and I am thrilled with it. We just moved into a 600 ft2 home. Due to the size of the living room and the size of the piano, everyone who comes in our home thinks it is a piece of furniture to sit things on or lean against. With my new cover I can relax and enjoy my company knowing my piano is safe.
Related Items:
Retail Price: $60.00
Sale Price: $49.95